Pamela E. Miller
Contemporary Art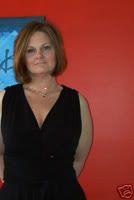 About Me:
"By cultivating the beautiful we scatter the seeds of heavenly flowers, as by doing good we cultivate those that belong to humanity"
~Robert Heinlein
These are just a few words that I like to live by.
I feel that creating art is a way of sharing your soul with others.
As you will see in my artwork: sometimes I am very flamboyant and always colorful, sometimes confidant and peaceful, other times angry or chaotic.
I think all of my emotions; passions come out in my works.
Sometimes I layer it on thick (paint and words) and other times I flirt with the canvas with light feathery strokes.
My art reflects my beliefs in love, warmth, generosity, loyalty, and honesty.
I'm inspired by science, fantasy, martial arts, architecture, and nature (especially water).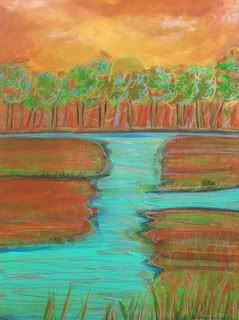 Education~
Maryland Institute of Art- Summer School
Howard Community College-Liberal Arts
Capital College-Computer Engineering
Exhibitions~
DMG Artwork– Annapolis, MD "Let it Snow!" Dec 2006
Capital Arts Network Dec "125 Show" Nov 2005 & 2006
DMG Artwork- Annapolis, MD "Enter the World of Abstracts" Oct 2006
DMG Artwork– Marley Station Mall, MD "Paintings by Pam" May 2006
DMG Artwork– Marley Station Mall, MD "Kung Foo Circles" February 2006
Corporate Collections~
Days Inn-Annapolis, MD 80 "Volvo Boats in Annapolis" Prints
Gallery Representation~
DMG Artworks– Annapolis MD
Chesapeake Gallery– Prince Frederick, MD
The Gibraltar Gallery-Little Rock AL
Tutti Fruiti's French Market- Fairhope AL
Awards~
Artist of the Year (Arts and Entertainment)- H.H.S. 1985
2nd Place: African Americans in Science and Technology Poster Contest 1985
Honorable Mention- H.H.S. 1984
Ebay Art Group-Summer Art Contest Winner 2006
Artwanted.com– 2007 Landscapes/Outdoor Calendar
Artists Spotlight Interview-Creative Spotlight -August 2006
Blog: pmillerabstractart.blogspot.com
Ebay Store: http://stores.ebay.com/P-Miller-Contemporary-Abstract-Art
Etsy Store: http://www.etsy.com/shop.php?user_id=57441 or allyon67.etsy.com